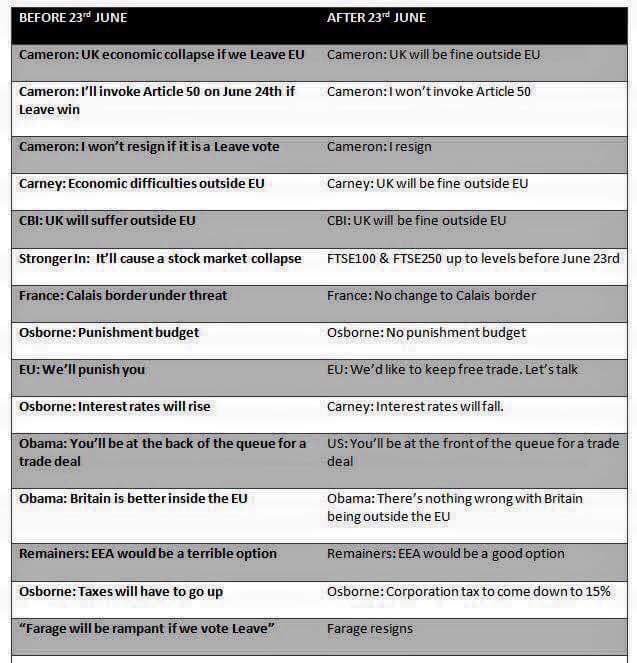 Remainers keep insisting Brexit Leavers lied and/or were lied to by the Leave Lobbies.
One day I decided to jot down the Remainer lies I could think of.
And got over a couple of dozen off the top of my head.
And added a few more major ones I came across later
I kept meaning to tidy this up and post it somewhere but never got round to it:
Some of the Remainers lies (apologies, still drafting it):
Pre Referendum Remainer Lies
1. EU Immigration Is Good For The Economy
Many immigrants are working to save money to spend in their home countries.
That takes wealth out of our economy
2. EU Immigrants Pay More In Tax Than They Claim In Benefits
That claim is from a study from an EU funded social "science" "research" institute.
It only applies to EU immigrants, even that "study" said non EU immigrants/refugees cost us money.
It is based on the average of out of date figures from a period from some years ago.
It is based on highly paid in work immigrants, eg doctors, bankers, entrepreneurs.
It only counts benefits claimed, not benefits used or provided, eg emergency services, roads, schools, etc.
Or any of the other expenditure that taxes are needed to fund, armed forces, foreign aid, etc.
So the more productive EU immigrants of the past didn't even pay for themselves, never mind all immigrants.
And since the new accession immigrants started flooding in working EU immigrants aren't even covering non-working EU immigrants benefits claims!
3. We Have An Ageing Population and Not Enough Young To Look After Them
But this is just deferring the problem – what is going to happen when the immigrants retire?
Or are the Remainers arguing all immigrants should be repatriated when they reach 60?
4. Fall of Disposable Household Income by £4,300
The calculations were (one) projection of a (possible) fall in GDP, not the same thing as household income at all (unless all corporate income is paid out to – local – suppliers, employees, shareholders and the government – if any is diverted out of the country – eg Starbucks, Google……. then it all falls apart).
Not only that, it wasn't a fall, it was a slower rise than another projection.
And not only that, they divided the gross future projected GDP figure by the smaller CURRENT number of households, NOT the much larger number of future households!
A hat trick of lies in one false claim about economic guesstimates!
5. Emergency Budget
There would have to be an immediate Emergency Budget with spending cuts and raised taxes
6. Emergency Pension Cuts
There would have to be immediate emergency cuts in the State Pension
7. World War Three Would Start If We Left
No further comment needed!
8. Labour and the Unions Support Remain
Labour and the Unions traditionally EuroSceptic
Tony Benn, Michael Foot and Jeremy Corbyn and TUC all anti EU
Cameron bought off TUC by changing Trade Union law.
TUC bought off Corbyn.
But some maverick Labour MPs and Trade Unions still supported Brexit.
9. EU Protects Workers Rights
EU forced Greece and Hungary to ban collective bargaining.
For those doubter Remainers out there (that would be all of them):
http://www.worker-participation.eu/National-Industrial-Relations/Countries/Greece/Collective-Bargaining
http://www.tuaeu.co.uk/the-eu-attacks-wages-and-collective-bargaining/
http://www.spiked-online.com/newsite/article/the-eu-has-done-nothing-for-workers-rights/18464#.V5fuzzXsGRw
https://www.morningstaronline.co.uk/a-8f95-The-growing-myth-of-social-Europe#.V5fv6jXsGRw
10. EU Protects Workers Jobs
Look at Southern Europe, especially youth unemployment.
11. EU Protects Industry
EU gives grants to investors in UK to move their factories to Eastern Europe, and even non EU Turkey – Ford Transit Production
12. UK Financial Services Won't Be Able To Operate in EU If We Leave
As I understand it the Financial Services Passport being scrapped in New Year, any bank, etc, whose country has EU levels of regulation, eg UK, will be able to operate in EU
13. The EU Protects Women's Rights
It was EU regulations which forced the UK to have a Tampon Tax!
14. The Leave Campaigners Didn't Have A "Plan A"
The Leavers weren't a Government!
The Leavers weren't even a party!!
They were a campaign group to get the government to get us out of the EU!!!
It was the government's job to actually get us out, and the government should have had a plan ready when it put the referendum in their manifesto!
15. We Won't Have Access To The EU Free Trade Zone
The whole world has access to the EU Free Trade Zone, it just doesn't all have tariff-free access to it!
We currently import about half of our food, much of it tariff free from the EU, but have to charge the 30%, is it, EU tariff on all the food we import from the rest of the world.
When we leave the EU we can have tariff free imports from the rest of the world.
If the EU wants to insist on charging 30% tariffs on the tiny amount of food we sell to it, and on paying 30% tariffs on the enormous amount of food we buy from the EU, that's their problem, not ours, especially as the world will be our tariff free oyster.
16. The £350 Million Figure Is A

LIE!
It's what we hand control of over to the EU and is the only hard figure available.
Grants and subsidies haven't yet been fully claimed, and often require match-funding.
The rebate depends on the (reviewable by the EU up to three years later) GDP and the amount of grant received.
The veto on scrapping the rebate has as much worth as Ireland or Holland or France's veto they had a referendum on and either had to vote again, or were ignored!
17. If We Leave The Economy Will Crash
The Pound and the Property Market were over valued and due a fall.
One of the main factor in strong prices is confidence, in poor figures is uncertainty.
Everyone was, and still is, exaggerating, or even fabricating, the level of uncertainty, and talking down the UK and its economy, so any falls were largely the result of a self-fulfilling prophesy.
18. Leavers Are Uneducated
When Old Fogey Leavers were educated half the country didn't go to university and get degrees like today.
But that's because hardly anyone went to university, only the most academic high flyers, who took academically demanding, high flying, theoretical courses.
Most people took lower level courses and qualifications, that could well have been much more demanding than today's "degrees": HNDs, ONDs, HNCs, ONCs, A Levels, O Levels, apprenticeships. Most of today's "graduates" wouldn't have even been able to cope with O Levels, never mind A Levels, from the "Olden Days"!
Most people in the "Olden Days" went straight to work after school, whether it was down' 'pit or into a manual apprenticeship at 13, into a bank at 16, or into management or public service administration, or a technical apprenticeship (eg aircraft design) at 17 or 18.
Sydney (Hurricane) Camm left school at 15 to become an apprentice carpenter, then became a carpenter at an aircraft company where he moved to the drawing office, after working for another aircraft company, he joined Hawker at around 30 as a senior draughtsman
R J (Spitfire) Mitchell left school at 16, gained an apprenticeship at a locomotive engineering works then worked in the drawing office while studying engineering and mathematics at night school, joining Supermarine at the age of 22.
Barnes (Bouncing Bomb) Wallis left school at 17 for an apprenticeship in an aircraft design office.
Frank (Jet Engine) Whittle left school to become an RAF apprentice, eventually getting a degree six years after patenting his turbojet design.
Albert Einstein originally went to teacher training college. Marconi never formally attended a university.
Tommy (Colossus Computer) Flowers undertook a mechanical engineering apprenticeship at the Royal Arsenal while studying for his degree in electrical engineering in evening classes at the University of London. At about 21 he joined the Post Office (GPO) telecommunications branch.
The world today's "Graduates" live in was invented, designed and built by us Old Fogeys. Remember even Bill Gates and Paul Allen, Steve Jobs and Steve Wozniak and Theodore (Gateway Computers) Waitt were University drop-outs, as were Michael Dell, Tom (MySpace) Anderson, Julian (Wikileaks) Assange, Evan (Twitter) Williams, Mark (Facebook) Zuckerberg and Dustin (Facebook) Moskovitz, Larry (Oracle) Ellison, Jan (WhatsApp) Koum, Travis (Uber) Kalanick, Bram (BitTorrent) Cohen, David (Tumblr) Karp, Kevin (Digg) Rose, Shawn (Napster) Fanning.
Then there's people like architect Frank Lloyd Wright, geodesic dome inventor Buckminster Fuller, entrepreneur and innovator Ingvar (IKEA) Kamprad.
Others without a degree include Da Vinci, van Leeuwenhoek, Faraday, Goodyear (tyres), Darwin, Joule, Mendel, Edison, and the Wright Brothers!
Not to mention Richard Branson, Ray (McDonalds) Kroc, Colonel Harlan (KFC) Sanders, Dave (Wendy's) Thomas, Simon (X-Factor) Cowell, Roman Abramovich…..
Oh, and don't forget most meejah and sports stars didn't go to university!
Although most old fogey trendy-lefty journos probably did, though they probably spent all their time protesting!
19. Winston Churchill would have voted for Remain/Supported the EU
Winston's grandson — Remainer Nicholas Soames — even dismissed claims Churchill would have voted Leave as 'appalling' and 'totally wrong'.
However Churchill proposed and supported regional groupings, like mini United Nations or regional Commonwealths, NOT federal superstates, for not just Europe, but the Americas, Africa, Asia. But he was clear that Great Britain should not face Europe, but towards the sea, and that the UK's place was in a Commonwealth of former colonies, including the US!
'We are linked to Europe, but not combined,' wrote Churchill in 1930. 'We are interested and associated but not absorbed.'
20. We're Better Off Changing The EU From The Inside
We've been on the inside for 43 years and the only change we've seen is ever closer union!
Einstein defined insanity as doing the same thing over and over again and expecting different results!!!
21. Brexit Will Deprive Our Young Of The Chance To Work Abroad
With up to 50% youth unemployment in Europe, and the youth of Europe having to come to the UK to find work, what on earth makes our youth think there are opportunities for them abroad in the EU?!
22. Leaving Will Prevent Us From Travelling, Living, and Working in The EU
We manage to travel, live and work in non EU parts of Europe, and managed to do so in the EU before we joined.
23. There Are More/As Many UK Citizens Working/Living In The EU Than EU Citizens Working/Living In The UK And They Will All Be Repatriated
Remain finally scaled back to the true figures of around 3 Million EU citizens working or claiming benefits here and around 1 Million Brits working or retired in the EU, not over 2 Million as Remainers originally claimed.
There is no way, say, Spain, or anywhere else in the EU, is going to expel the pensioners who pump their UK pensions and savings into the Spanish economy, employing cooks, gardeners, maids, and providing income for bar and shop owners.
24. Old People Don't Have A Right To Vote Away Our Future/They'll Soon Be Dead
Old people created their future. Their fathers and brothers gave their lives for it.
On the basis of our experience and wisdom we are voting for what we think is best for our unborn grandchildren.
25. We Can't Leave The EU And Then Pick And Choose Which Bits We Want To Keep/The EU Will Dictate The Rules/Can't Change Them
Lichtenstein doesn't have to accept free movement.
Iceland doesn't have to accept free movement of capital.
Mexico has special favoured status and isn't in the EU.
But, more importantly, we don't want to be in their club.
And it is the EU who will be wanting tariff-free access to the UK market, not the other way round:
If the EU wants to pay, is it 30%, tariffs to continue selling, or, rather, trying to sell, us lots of food when we will be able to get tariff-free food from the rest of the world, that's their economic funeral!
26. We Will Lose Research Grants/Won't Be Able To Cure Cancer
It's our taxes, or what's left of them after going through Brussels, and then often several layers of EU related Quango.
You don't even have to be in the EU to get EU research grants!
27. We Will Lose Access To Education Grants/Won't Be Able To Study Abroad
It's our taxes, or what's left of them after going through Brussels, and then often several layers of EU related Quango.
You don't even have to be in the EU to get EU education grants!
Turkey is in the Erasmus+ Programme! The Russian Federation is an Erasmus Partner!! Countries across North Africa and out across the rest of the World have access to the scheme!!!
28. Voting Leave/Campaigning For Leave Is Racist/Excuses/Gives the Green Light To/Increases Hate Crime And Racist Attacks
Hate crimes encompass a lot more than race, and any "surges" are in REPORTS and not incidents, and it is not the Leavers, but the Remainers, and the media, who are stirring up the trouble, if there is any, and not just that, the media are fabricating and magnifying any disturbances. And the police, "anti"-hate "charities, and Remainers are touting for and encouraging the submission of "reports".
For example, there was a big fuss from the police, and the media, about a "race hate" "incident" on a Manchester tram.
But it was a merely verbal abuse, by drunks that might just as easily have "attacked" a fat b'stard, a four-eyed git, a fat s1ag, or a ginger minger, or a trendy-lefty Guardianista for that matter.
They were "abusing" a Latino Yank and telling him to go back to Africa, about as far as you can get from the Brexit agenda.
On the Manchester Police Faceplace thingy the usual suspects were calling for the "attackers" to be locked up for life and throw the key away if they can't actually be hung, as well as abusing anyone who was a Leaver.
And when a contributor pointed out that on the same day there had been a physical assault on a bus driver and a s€xual assault on a YOUNG girl (7?) and no one, least of all the Police, were taking any notice of them, another responded that they were political point-scoring and of course ALL THREE incidents were EQUALLY serious?!?!?
However, the Bus driver incident was referred to in passing in later news.
Supposedly someone (a drunk?) had phoned a Caribbean rest home and made threats, which necessitated a full evacuation and lock-down situation across Greater Manchester?!?!?
Apparently it was in retaliation for the attack on the bus driver, which would indicate that the driver was white, and the attackers not, but I'm guessing, because the reports I've seen never mentioned any such details?!?!?
It would be interesting to hear the "details" of the s€xual assault too.
And whether the Remainers feel that by their campaign they were giving the green light to assaults on the indigenous population by immigrants!
And I note that another lead story is of the widowed pensioner who had excrement pushed through her letterbox and daren't leave her home.
Which, strangely, is EXACTLY the same story Enoch Powell told in his so-called "Rivers of Blood" speech (which had nothing to do with blood, never mind rivers of it), except his widowed pensioner who had excrement pushed through her letterbox and daren't leave her home was English, not German, and the press insisted his story was a LIE! (it was eventually shown to be true, he'd just been prepared to sacrifice his reputation to protect her) unlike the current one which they automatically accept to be gospel.
29. Leave Is On The Wrong Side Of History/Out Of Step With Civilised Opinion
According To A Spectator Article the latest Pew Global Attitudes Survey reports that 73 per cent of voters in Holland oppose 'ever closer union', and 85 per cent in Sweden. In Greece, it's 86 per cent. Even in core EU member states like Germany, Italy and France, no fewer than 68, 65 and 60 per cent of voters, respectively, reject Brussels-driven empire building.
30. Hardly Any/Only 13% Of Our Laws Come From Brussels/60% Is A LIE!
The two figures come from the SAME report:
.  13% of our laws are written in Westminster under EU direction
+49% of our laws are written in Brussels
=62% in Total of our laws come from the EU
And one of Remain's Project FEAR SCARES was that we are entangled in so much Brussels red tape and regulations that if we voted Leave it would take decades to untangle, if it was at all possible, during which time our government would be paralysed, our economy destroyed, our children's futures ruined, World War Three would start and the World would End!!!
31. And remember, they can't undo the decision we take. If we vote out, that's it. It is irreversible. We will leave Europe for good.
But once we voted for leave we had to have another referendum to reverse the irreversible and do the undoable?!?!
32. A (Or Was It Two) Company(/ies) Are THINKING Of Leaving The UK If The UK Leaves The EU
I'm aware of around half a dozen at least significant, if not major international, companies announcing they were moving to the UK, or were going ahead with major investments in the UK, in the run up to the Referendum, REGARDLESS of whether we left the EU!
Strangely, despite the massive media coverage of the companies THINKING of leaving, there was almost NO coverage of the companies actually coming or investing here, I'm only aware of them because people had picked the stories up in their local papers and spread the word on social media!
33. Brexiteers are worried about immigration but most is from outside the EU – leaving the EU won't stop immigration
Firstly no Leaver said they wanted to stop all immigration, EU immigration, or non-EU immigration, they wanted to take back CONTROL of our borders.
Secondly while most legal and illegal immigrants might originate from outside the EU they don't get here in rubber dinghies across the Atlantic, they get here by crossing the no-borders EU, often gaining EU passports on the way, and a RIGHT to enter and stay in the UK.
And, thirdly, it's EU Human Rights laws that stop us getting rid if immigrants that shouldn't be here or are no longer welcome.
========================
Post Referendum Remainer Lies
1. Leave Should Have Had A Bigger Lead/60% Of the Vote To Count
Remain had a Remain campaign group, with its Remain budget.
Plus the Government campaigning for Remain, with an even bigger budget.
Plus most of the Labour Party, and the Lib Dems, and the SNP……
Plus the government had been preparing the Remain campaign months in advance (eg "asking" companies who do – £BILLIONS of – business with the government to support the Remain campaign and even put statements into their annual reports saying their company would be harmed by Brexit).
Plus the Remain camp had access to Civil Service support while the few Leave Ministers weren't even allowed to see documents relating to the EU in the run up to the referendum!
The original, true-blue, dyed in the wool, dedicated Leave campaigners, UKIP, were relegated to a support act and the Leave campaign funding was given to a new Leave campaign group chosen by the government of dubious dedication and resolve.
Oh, and the Remainers had most of the media, the luvvies, the Bank of England, the Police, the EU, friendly overseas politicians, EU employees and former employees (who lose their diamond encrusted EU pension if they don't support the EU), even the traditionally Eurosceptic unions, which Cameron bought with changes to Trade Union Legislation, etc, spouting propaganda on its behalf, and spreading Project FEAR and Project SHAME spin!!!
All that was worth far more than 10% ! ! !
2. Leave Did Not Have A clear win
(Copied from someone else's post)
In a binary referendum the winner is the one who achieves 50% + 1 vote.
Leave won with 50% + 1,269,501 votes.
Leave won 270 polling areas
Remain won 129 polling areas
Leave won in 9 regions
Remain won in 3 regions
Translated into seats under our present FPTP system (bit of fun, I know)
Leave 440 seats
Remain 220 seats
The margin of victory for Leave is clear, convincing and brooks no argument.
3. The New Prime Minister Won't/Doesn't Have A Mandate/There Should Be A General Election
In the UK we don't have a President.
We don't vote for a Prime Minister.
We vote for local candidates to become MPs.
The one who has the best chance of forming government does so.
If that person dies, resigns, or whatever, then the next most likely takes over and forms a government from the current intake of MPs until the next election.
The Tories have a majority in parliament, holding a referendum was in their manifesto, it was made quite clear in the enabling act that the government intended to honour the will of the people, there was a majority for Leave, May is the new leader of the party with the majority and is forming the new government, which will take us out of the EU, there is nothing there that would trigger an election, regardless of whether anybody is happy with it or not.
4. [British] "Europol chief says Brexit would harm UK crime-fighting" – Guardian
"Rob Wainwright says UK risks losing access to a European security database used daily by police"
"….leaving the EU meant the UK would become 'a second-tier member of our club'"
After the Referendum he told the Today programme:
"We're dealing very much with a globalised problem that requires close co-operation with our European neighbours, particularly in information sharing. That's going to continue of course, even after the UK leaves the EU."
According to the Spectator:
"Wainwright will know that Britain will still certainly have a working relationship with Europol: There is a long list of countries from outside the EU, including the likes of Bosnia and Herzegovina, Russia, Turkey and Ukraine, who do at the moment. Whilst further afield, Australia, Canada and the Colombia enjoy an 'operational agreement' with Europol."
5. Scotland voted to stay in the EU
The Referendum was on: "should the UK remain in or leave the EU".
The UK voted to leave.
Scotland voted to remain in the UK in their Independence Referendum.
In the full knowledge of the impending EU Brexit Referendum!
6. Only Two States Voted Leave. The Majority of UK States Want To Remain
Brexit won the "Popular Vote" IN A POPULAR VOTE REFERENDUM!
The two states that voted leave comprised about 60 million of the population.
Little Scotland, tiny Northern Ireland and miniscule Gibraltar only have a population of about 6 million!
Strange how the same people who want the "Popular Vote" THAT WAS NEVER TAKEN in the US to overturn the Electoral College States majority also want the "Popular Vote" THAT *WAS* HELD on Brexit to be overturned and replaced with a state based constituency vote THAT WAS NEVER HELD?!?!?
7. Oh, and the UK "liberals" and "democrats" think that the "constituency" State votes in the US Presidential Election that was ACTUALLY held should be replaced by a NON EXISTENT "Popular Vote" that wasn't campaigned for, didn't have an advertising budget, and for which many Trump supporters in California and New York and some other big population, guaranteed Democrat vote didn't bother turning out for.
While demanding the EXACT OPPOSITE happen with the Brexit vote?!?!?
8. Oh, oh, and what's this massive bill the EU is going to hit us with before we're allowed to leave?!?!?
You don't mean the EU actually costs us loads more than even the Leavers suspected?!?!?!!!!
9. Snap General election lost by Leavers
No, both Tories AND Labour agree that the vote was Leave and we should leave, as did UKIP, so something like 80% of voters voted for Leave supporting parties.
May merely lost seats to other Brexit supporting parties!!!
========================
Other Lists of Referendum Remainer Lies
Even The "Independent" managed to admit:
3. 'We will need an emergency Budget to restore stability to public finances' – George Osborne
5. 'Two thirds of British jobs in manufacturing are dependent on demand from Europe' – Alan Johnson
https://www.huffingtonpost.co.uk/matthew-ellery/leave-lies-remainers-need_b_12191462.html
Almost identical blog with pictures for the hard of thinking:
https://brexitcentral.com/audacious-lie-referendum-campaign-remainers-claim-immigration/
https://www.quora.com/What-exactly-were-the-lies-of-the-Remain-Campaign
http://www.dailyglobe.co.uk/comment/remembering-remain-predictions-for-brexit/
http://www.dailyglobe.co.uk/comment/remains-arguments-have-been-proven-false/
http://www.dailymail.co.uk/news/article-3655236/Nailed-four-big-EU-lies-Talks-Turkey-stall-Brexit-WON-T-spark-trade-war-say-Germans-Brussels-NOT-reform-open-borders-deportation-jobless-EU-migrants-myth.html